LightMic LT-71 - Dual Purpose Microphone

Item Code: LightMic
Dual purpose design makes it a great pendant-style microphone and a great handheld for classroom discussions.
The LT-71 LightMic is a rugged pendant style infrared microphone designed to withstand the rigors of everyday classroom use. The unique design of the LT-71 also lends itself as a great pass-around microphone too.
Product Highlights
Lightweight and easy-to-use
Dual purpose designed
Virtually unbreakable
Reliable: 5-year warranty
Designed for the Teacher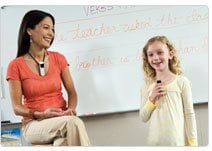 Lightspeed was the first classroom audio company to introduce an all-in-one pendant-style microphone. The LT-71 was the second generation design and it really addressed the issue of reliability. The LightMic LT-71's dual purpose design allows it to be worn comfortably around the teacher's neck, or used as a handheld for student use.
Add a Second Microphone
Additional microphones allow students to utilise the classroom audio system for presentations and classroom discussions.
Premium 5-Year Warranty
Lightspeed Infrared Audio Systems and optional accessories are warranted against malfunction due to defect in materials and workmanship for a period of five (5) years from date of purchase. System components will be repaired or replaced at Lightspeed's option. Rechargeable batteries and connecting cables are guaranteed for six (6) months. Warranty does not extend to finish, appearance, or malfunctions due to abuse or misuse. Repairs performed by other than Lightspeed Technologies will void this warranty.
LT-71 Product Specifications
Standard sub-carrier frequencies:
2.06/2.54MHz
Audio distortion:
<1%
Integrated microphone type:
Uni-directional electret
Input jack for audio source or optional external microphone:
3.5mm x 2
Microphone input impedance:
2.2k
Charging Method:
Cradle Charger or Cable
Alkaline Charge Protection:
No
Battery Power:
Two (2) AA NiMH
Size (H x W x D):
4.63" x 0.75" x 1.38"
Weight (with battery):
3.7 oz