NXQ Flat Panel Wall Speaker

Item Code: NXQ
The NXQ is ideally suited for classrooms with ceilings that are higher than 9 feet.
The NXQ is an excellent option for schools looking to save money on installation. This wall mounting speaker fills a classroom with clear, even sound so that every child hears every word.
Product Highlights
Simple installation
Cost savings of >30%
Advanced NXT™ technology
Reliable: 5-year warranty
Coverage Pattern
The NXQ Flat Panel Wall Speaker is ideally suited for classrooms of 1200 square feet or less with solid ceilings that are 9-12 feet high.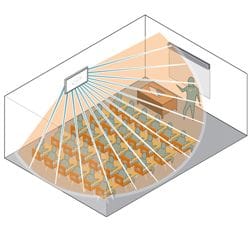 Features & Bending Wave Overview
NXT™ technology operates on the principle of bending wave physics. Exciters mounted to the back of the panel produce modal or resonant vibrations across the entire panel surface. When employed properly, NXT™ technology can produce a sound source that has a much flatter frequency response and more uniform sound distribution than conventional loudspeakers. This new sound projection technology is ideally suited for classroom amplification. This is because low-frequency sounds that can mask critical speech components are greatly reduced resulting in superior speech intelligibility.
One speaker evenly distributes sound throughout the classroom
Low-profile design blends easily into classroom fixtures
NXT™ technology produces superior speech intelligibility
Premium 5-Year Warranty
Lightspeed Infrared Audio Systems and optional accessories are warranted against malfunction due to defect in materials and workmanship for a period of five (5) years from date of purchase. System components will be repaired or replaced at Lightspeed's option. Rechargeable batteries and connecting cables are guaranteed for six (6) months. Warranty does not extend to finish, appearance, or malfunctions due to abuse or misuse. Repairs performed by other than Lightspeed Technologies will void this warranty.
NXQ Product Specifications
Description:
NXT™ Distributed Mode Panel
Panel Size:
16.25" x 8.25"
Frequency Response:
100 Hz - 20 kHz
DCR:
8 ohms
Overall Dimensions:
18.25" x 10.25" x 1.5"
Weight:
2.2 lbs.
Mounting:
Standard picture hanger