Lightspeed
Lightspeed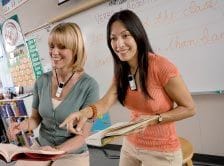 They said it couldn't be done: an all-in-one, single speaker, no installation system that could fill a classroom with clear, even sound so that every child hears every word. But REDCAT does it. Proven in classrooms nationwide, the revolutionary REDCAT, in combination with the lightweight and durable REDMIKE, is turning heads and strengthening the teacher and student connection.
Classroom Sound Enhancement Technology
LightSPEED classroom sound enhancement equipment is specialist classroom audio equipment. It is specifically engineered to deliver all audio to all listeners in a classroom to boost learning. In the classroom, the sounds of the teacher's voice - and the multitude of other sounds of teaching - are captured and broadcast so that learners can be supplied with information in a way that is proven to improve their learning.
As an added bonus the use of the system improves outcomes for listeners with hearing impairment, those with conductive hearing loss and the even larger group of learners with auditory processing disorders. Such specialist amplification is concomitantly of assistance to teachers who can manage their classrooms without raising their voices-the cause of much vocal distress in the teaching profession.
Hear and Learn is an Australian company that supplies, services and distributes LightSPEED classroom sound enhancement products. LightSPEED equipment carries the longest warranties in the market (5 years on all equipment excluding batteries), offers the widest range of solutions and is the world's most popular equipment.
It needs to be recognised that this technology - sometimes referred to as soundfield technology - has evolved significantly. LightSPEED have removed the threats attached to previous generations of equipment by reducing installation complexity, improving reliability and reducing cost.

When the time comes to send your children to school, a parent needs to make a number of assertions in deciding which school is most suitable for our child's education. What kind of facilities does the school have? What teaching methods do teachers employ? What sport, music, second language or other activities does it offer? Is it mixed or unisex? Some parents might even check out the books that are used, find out the experience of the teaching staff, and expect a certain number of computers available to students. But, what about classroom sound amplification? Has it ever occurred to the average parent how a poor sound environment might affect his or her child's learning outcomes? Think about it.
The majority of a child's education in the early years (85% according to Dr David A. Santellanes) is verbally delivered by a teacher located at the front of a classroom filled with other kids and, at times, subjected to all kinds of other environmental noise. It is widely acknowledged that today's classroom is far noisier than the classrooms of the past, especially if one considers air conditioning and heating equipment, computers, etc. Further, Australian classrooms comprise a diversity of children from different cultural and linguistic backgrounds. Dr Carol Flexer, an expert in educational audiology and an advocate of classroom sound amplification, argues that the classroom is "an auditory-verbal environment" and describes the factors affecting an effective auditive environment in today's classrooms including students whose English is not their first language, different teaching and learning styles, varying student seating configurations, and a significant change in the amount of information delivered to students.
In the past, sound amplification would have only been considered by parents whose child suffered from some hearing loss. However, Dr Flexer maintains "Research is compelling, all students benefit from appropriate installation and the use of sound systems." And the research is compelling indeed. Robyn Massie and Harvey Dillon of the National Acoustic Laboratories, Australia, agree with Dr Flexer, and their studies support the use of classroom sound amplification systems to maximise learning outcomes. They further argue that research in the last 20 years shows that sound amplification benefits all students, not only those suffering from hearing loss. Some of the benefits they list include improved academic achievement, speech recognition, attending skills, and learning behaviours.
However, Bruce Bebb warns "Louder is not necessarily better. A teacher may be able to project his/her voice in a classroom and still lack intelligibility of certain word sounds." That is, it is not simply a matter of providing teachers with a microphone, but to equip the classroom with the appropriate equipment to allow both the teacher and the students to be heard and understood clearly. Dr Flexer maintains that one of the main barriers to sound amplification is the fact that sound is invisible and most adults have developed mechanisms to compensate for poor acoustic environments. Similarly, Massie and Dillon argue that "children cannot rely on years of language and learning experiences to fill in the gaps of missed information." Moreover, Dr Flexer goes on to explain that "classroom amplification is critical in pre-school through third grade as these children are developing the auditory- linguistic foundation that is essential for success in the years that follow". Dr Flexer links literacy to phonemic awareness, that is, the better the student hears, the better opportunity to learn to read. Furthermore, Massie and Dillon discuss an inquiry into the education of boys in 2002 that led to the publication of a report by the House of Representatives Standing Committee on Education and Training, in which numeracy and literacy skill foundations were highlighted as playing a major role in a student's later educational development. Thus, it is as important for students to hear their teacher as it is to hear each other.
The multicultural nature of Australian classrooms is a significant contributor to literacy and numeracy outcomes but it is often underestimated in developing mechanisms to improve those outcomes. For example, a School Education Summary published by Australia's Department of Education, Science and Training establishes as one of the government's agenda items for schools the need to build better literacy and numeracy outcomes for students while focussing on tutorial vouchers, a National Inquiry into the Teaching of Literacy and a Special Learning Needs Programme for disadvantaged students. None of the government's agenda items address classroom environment or the needs of students from different linguistic background as an area requiring attention. However, as Massie and Dillon argue, "Cultural differences, language differences and different learning styles also contribute to the difficulties facing teachers and children." However, academic success has often been linked to curricula and teaching methodology as Dr David A. Santellanes contends.
Students are not the only ones to benefit from an improved classroom environment. Teachers, Massie and Dillon argue, on average, "talk for 6.3 hours per school day." Their job has become more demanding as more diverse students populate Australian classrooms and outcome standards are measured and raised. Current Australian government initiatives focus on teacher rewarding schemes to address fluctuating numbers of teachers and ongoing lack of job satisfaction. However, researchers believe that improved classroom infrastructure and environment, which is conducive to learning and maximises students' opportunities, could also be an incentive to teachers. A classroom environment in which students' have the opportunity to hear and understand what the teacher and his or her peers are saying not only affects learning outcomes but also concentration levels.
As Dr Santellanes concludes, classroom sound amplification is a simple mechanism for schools to implement, it is "recognized
as one of the most successful and cost-effective tools for raising student achievement" which does not require any modifications
to curricula or teaching methodology, while giving all students an opportunity to make the most out of their education.