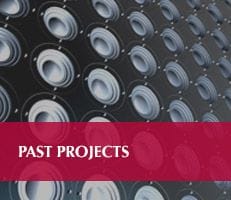 REDCAT Give your teaching voice a break

Item Code: Lightspeed-REDCAT
The new REDCAT redefines classroom audio
One small REDCAT sound panel easily fills classrooms with the intelligible sound of a teacher's voice. REDCAT produces exceptional clarity, no matter where a teacher stands, or students sit. It helps save the teachers' voices by letting them speak naturally.
All-in-one design means no install costs, out-of-the-box usability
Exciter technology fills the room with the teacher's natural voice
Audibility and superior intelligibility
Think of the REDCAT with exciter technology as advanced, yet simple. So how does it work? A series of exciters apply sound energy directly to the REDCAT sound panel, "exciting" the voice signal.
Energy from the exciters is transferred to the sound panel surface, and every point across the surface radiates the sound—sending it evenly throughout the classroom. The exciter technology helps students hear the critical higher frequencies of their teacher's voice.
Full access to teacher's natural voice
Microphone and sound panel system are so perfectly tuned they prevent feedback, no matter where teachers stand.

No hot spots, no dead zones
Audio exciters and electronic tuning blend to create clear, natural sound from a small sound panel.

Eliminate feedback, once and for all
REDCAT takes advantage of the natural voice and sound reflection from classroom walls, ceiling and floor.

Just turn it on and start talking
REDCAT defines out-of-the-box usability. Its all-in-one design means no complex install, no steep learning curve.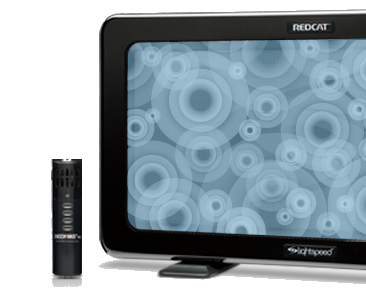 Imagine a handful of pebbles cast upon a pond surface. The rippling waves reach every inch of the area, just as they would reach every ear in class.
REDCAT Product Specifications
Power Output (System Total)
20 W Total
Frequency Response
120 Hz - 13kHz
Power Supply (UL Listed)
24V / 1.75A
Signal-to-Noise Ratio
> 77dB
Image and Spurious Rejection
> 70dB
Total Harmonic Distortion
< 1% @ 1 kHz
Standard Sub-carrier Frequencies (iR)
2.06/2.54 MHz
Alternate Sub-carrier Frequencies (iR)
3.20/3.70 MHz
Dimensions (W x D x H)
16" x 2" x 9"
Weight
3.2 lbs
Certifications
CE, WEEE, RoHS
Controls
Power switch with front panel LED
IR microphone volume controls
Audio input volume control
Audio output level control
Tone Control
Connections
Audio input (3.5mm)
Mixed audio output (3.5mm)
DC Power input
Integrated Infrared Sensors
2 Vertical Arrays
Total Diodes: 68
Reception Coverage: up to 1200 square feet
Integrated Flat-panel Speaker
Description
Sound panel with exciter technology
Panel Size
13.75" x 6.75"
Frequency Response
100 Hz – 15 kHz ± 6dB
Impedance
8 Ω
Power Handling
20 W
Environmentally Friendly