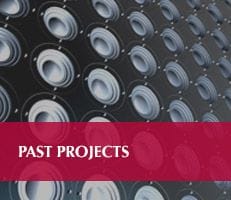 The AMC Mixer Amplifiers are available in 30, 60, 120 and 250 watts

Item Code: The AMC Mixer Amplifiers are a

You'll find our power amplifiers working all day every day in some of the toughest environments around the world such as industrial factories, airports and shopping malls.
The Australian Monitor Installation Series AMC line of amplifiers takes the heritage & reliability of our famous AMIS series & integrates these features into a low cost amplifier format for applications where reliability is everything, but the more elaborate features of our AMIS series are not required. Available in 30, 60, 120 and 250 watt versions the AMC series are a 2 RU mixer amplifier featuring 100 volt line & 4 ohm outputs, and 3 universal mic/line inputs. Master volume & overall treble & bass controls are provided, along with Vox triggered muting (defeatable) giving channel 1 priority over inputs 2 & 3. There is also facility to internally add a tone generator card. The Australian Monitor AMC series give the contractor a low cost alternative in applications that are cost sensitive, but still require a high quality of sound reproduction & reliability.
Call (08) 8346 4444 for more information or click here to enquire.
Features
100V output
4 ohm output
3 Dual mic/line inputs
Bass and Treble Control
Master Volume Control
2RU
Rack Mounting as Standard
Overload and Overdrive Protection
Vox Muting
Optional Tone Generator - preannounce, alert, evac and bell tones (ATC5488)