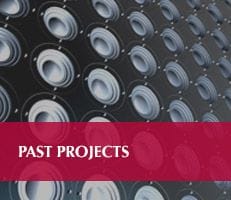 Ceiling Speakers & Grills

Item Code: Ceiling Speakers and Grills

Combining superb sonic performance with striking contemporary aesthetic design
Premium Ceiling Speaker
The AMPCS60 Australian Monitor Premium ceiling speaker utilises innovative design & materials to produce a high quality ceiling mount speaker.
Featuring a sealed metal back box, a coaxial 6.5" woofer & 3⁄4" titanium tweeter The Premium Ceiling Speaker delivers a high quality sound reproduction and wide frequency response for critical listening & foreground/background music environments. Rated at 60 watts with 70/100 volt tapings at 7.5w, 15w, 30w and 60w & also featuring a 16 ohm transformer bypass, the Premium Ceiling speaker offers great flexibility, excellent sound reproduction & great value for money from an architecturally friendly, easy to install package.
Call (08) 8346 4444 for more information or click here to enquire.
QuickFit Installation Ceiling Speakers
| PART NUMBER | DESCRIPTION | POWER | SENSITIVITY | FREQ. RESP. | TAPPINGS |
| --- | --- | --- | --- | --- | --- |
| QF5A | 5" high efficiency speaker & quick fit metal grill | 5W | 90dB | 120Hz-18kHz | 5, 2.5, 1, 0.33W |
| QF6 | 6" high efficiency speaker mounted to a quick fitting grill. Dual cone full range. | 10W | 90dB | 120Hz-18kHz | 10, 5, 2.5,1.25w |
| QF8 | 8" high efficiency speaker mounted to a quick fitting grill. Dual cone full range | 15W | 92dB | 70Hz-20kHz | 15,10,5,2.5,1.25W |
| AMPCS60 | 6.5" Premium ceiling speaker | 60W | 92dB (1W/1m) | 100Hz-20kHz | 60, 30, 15W |