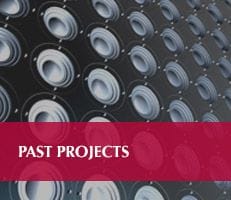 ACT-707SE

Item Code: ACT-707SE

Featuring a color LCD display and a ACT (automatic channel targeting) operating frequency selection, the the ACT-707 is also capable of interfacing with a PC. The MIPRO software capable of controlling 16 receivers, for a total of 64 simultaneous wireless channels.
Accessories
| | |
| --- | --- |
| | FB-72 -- Metal housing, fits 2 half-rack side-by-side |
| | FB-71 -- Metal, fits 1 half-rack ACT-Series receiver. |
| | FBC-72 -- Rear-to-front cables for front antenna mounting ACT receivers |
| | MP-10 -- Power Supply for receivers |
| | AT-20 -- Coaxial Antenna |
Call (08) 8346 4444 for more information or click here to enquire.
Key Features
ACT-707SE is a half-rack receiver in a compact metal casing.
Reliable diversity reception for maximum range with dual "Pilotone & NoiseLock" circuit prevents interferences.
Bright and easy-to-read LED display shows numeric channel and RF/AF strengths.
Innovative "Noise" indicator indicates if the receiver is experiencing interference.
Press the "SCAN" button and the receiver will auto-scan and lock on to an open, interference-free frequency.
Then press the "ACT" button to automatically upload the receiver frequency to the transmitter.
Output level and dynamic range are accurately pre-adjusted to equal the microphone capsule's sensitivity, thus ensuring optimal performance of the system.
16 systems can be operated simultaneously in one frequency band.
Patented and meets worldwide wireless regulations and approvals.
Specifications
| | |
| --- | --- |
| Main Frame Size | EIA standard 1/2 rack unit |
| Channels | Single channel |
| Main Frame Construction | Metal frame, plastic panel |
| Receiver Module | Fixed |
| Display Status | LED indicator displays channel and RF/AF metering. |
| Oscillation Mode | PLL synthesized |
| Stability | ±0.005% (-10~50?) |
| Carrier Frequency Range | UHF 620~950MHz |
| Bandwidth | 24MHz |
| Receiving Mode | Diversity receiving |
| Sensitivity | 6dBμV, at S/N>80dB, 40KHz deviation |
| Max. Deviation Range | ±68KHz, with level limiting |
| S/N Ratio | >105dB(A) |
| T.H.D. | <0.5% @ 1KHz |
| Frequency Response | 50Hz~18KHz±3dB, with high-pass filter |
| Maximum Output Level | Mic-level: -20dBV/100Ω, Line-level: -4dBV/5KΩ |
| Output Connectors | XLR balanced & 6.3φ phone jack unbalanced. Multi-channel system can switch between separate or mixed output. |
| Audio Output Adjustment | The world's first wireless system with output level accurately pre-adjusted to equal to the microphone capsule sensitivity and ensure optimal performance. |
| Squelch | Innovative "PiloTone & NoiseLock" dual-squelch circuit. |
| AC Power Supply | External 90~264V AC switching power supply |
| DC Power Supply | 0.5A, 12~15V DC |
| Dimensions | 210(W)×44(H)×206(D)mm / 8.3(W)x1.7(H)x8.1(D)" |
| Weight | 0.9kg / 2.0lbs |
| Matching Transmitters | ACT-707HE, ACT-707H, ACT-707TE, ACT-707T |
| Note | Specifications on carrier frequency range and maximum deviation vary to comply with regulations of different countries. |